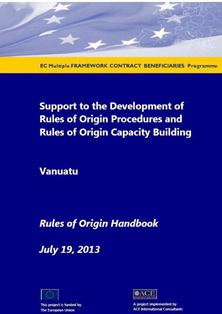 Vanuatu Rules of Origin Handbook
 This Handbook provides a summary explanation of the qualification provisions, certification requirements, documents specified to be used to certify origin, and designated certifying authorities for each of the trade agreements of which Vanuatu is a member or a beneficiary, with cross-references to the manuals or reference documents published for these agreements.
Specific focus has been given to areas of uncertainty, confusion, lack of understanding of the provisions, import requirements and export opportunities of the various agreements on the part of importers, exporters, Customs brokers and Freight forwarders, as identified in the course of interviews conducted with private sector stakeholders in Port Vila and Santo during the project to support the development of rules of origin procedures and rules of origin capacity building in Vanuatu.
Click on the image to view the Rules of Origin Handbook.
.