Director of Customs and Inland Revenue conducts three-day tour on Tanna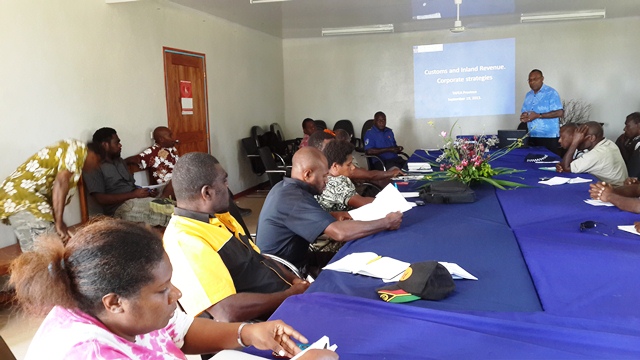 The Director of Customs and Inland Revenue (DCIR), Ben Leeshi, has led a five man delegation on a three day visit to Tanna from the 19th to the 21st of September 2013. The purpose of the mission was to educate the authorities of TAFEA Province on the existence and purpose of the DCIR, to forge working partnerships with the provincial authorities, present the department's corporate plan to Tanna customs officers and carry out ground level scoping in order to assess the needs for DCIR services. Director Leeshi who hails from Erromango is not new to Tafea Province.
In his remarks, Director Leeshi stated that heads from all government departments need to come down to the ground level and carry out regular assessments of their own services and needs. This is a must as far as decentralization si concerned for effective service delivery. His delegation met with the Lord Mayor of Lenakel Town Mr. Reginald Tagap where some jurisdictional issues were ironed out between the DCIR and the Lenakel Municipality with respect to the collection of business license fees. He later met with the TAFEA Province team comprising of Councilor Naremete, the Secretary of the Nikoletan Council of Chiefs Mr. Bruno, Secretary General of TAFEA Province Mrs. Ketty Napuat, Area Secretaries and the Chairman of Tanna Businessmen's Association.
The much appreciated outcome of the meeting was the understanding of the principal idea of DCIR - TAFEA Province Partnership in meeting DCIR goals and the need for such partnership. Transpiring from this the Directors office will liaise with the Department of Provincial Affairs to meat out partnership work in areas of common interest. For instance in border control work where it is envisaged that area secretaries can be empowered to assist to a certain extent in Customs & Border Control work and direct Yachts for clearance at an international port of entry.
This was important as TAFEA Province is the near most part of Vanuatu to New Caledonia, Australia, NZ and a potential connection point to South East Asia. Another area seen as potential beneficiary to this partnership is the area of tax education needed in order to increase voluntary compliance. Area secretaries being important important conduit to decentralization of government activities and are seen as in the best position to informing the general public about tax obligations and how to meet them. - Subsequent visits will be conducted to other provinces such as TORBA, MALAMPA and SANMA later this month with the aim to further form community partnerships similar to what has been done in TAFEA Province.