Melanesian Spearhead Group Trade Agreement (MSGTA)
Melanesian Spearhead Group Trade Agreement (MSGTA)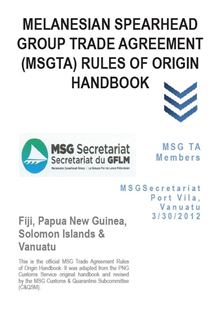 Reference is made in this section to the Melanesian Spearhead Group Trade Agreement (MSGTA) Rules of Origin Handbook, published by the MSG Secretariat, as a source of further information and elaboration. 
Click on the image to view the MSGTA Rules of Origin Handbook.
Participating Countries

Participating countries in the Melanesian Spearhead Group Trade Agreement (MSGTA) are:
Fiji
Papua New Guinea
Solomon Islands
Vanuatu
Preferential Duty Rate Coverage
(Refer to pages 4, 5 to 7 and 17 to 32 of the MSGTA Handbook for additional information)

The MSG Trade Agreement provides for preferential duty rates on the importation into the participating countries of all goods originating in the other participating countries, except for:
Chapter 22 - Beverages, Spirits and Vinegar. All products except items described in HS Tariff code 2201, 2202 and 2209;
Chapter 24 - Tobacco and manufactured tobacco substitute;
Chapter 27 -Mineral fuels, mineral oils and products of their distillation; bituminous mineral waxes; and
Cane sugar of HS Code 1701.1100.
The content of this article is published through a project on the Support to the Development of Rules of Origin Capacity Building which is funded by the European Union and implemented by ACE International Consultants.